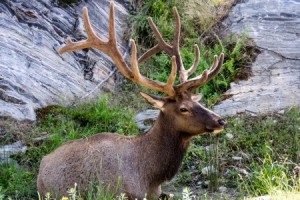 Boone-and-Crockett scoring of big-game animals is the accepted standard of measurement for gauging whether or not a big-game animal is a trophy-quality specimen. The composite number of inches provides every hunter with a mental picture of the size of a particular kill.
For example, a B&C 325 bull elk is decent. A 350 or 375 bull is a wall hanger. A 400-plus is a monster that few people will ever have the opportunity to hunt. The scoring system is something so universal that it's taken for granted, but the origin of the scoring system is not so well known.
At the turn of the 20th Century, many North American big game populations and species were on a slippery slope toward extinction. Frontiersmen had trapped out the furbearers. The U.S. Army had decimated the bison herds in order to starve Native Americans. Unregulated market hunting, commercialization of wildlife and subsistence hunting nearly wiped out North America's rich wildlife legacy, save for the intervention of some extraordinary men.
Foremost was President Theodore Roosevelt, a remarkable statesman and conservationist, who in 1887 founded the oldest wildlife conservation organization in North America–the Boone and Crockett Club. The club drew the attention and membership of a consortium of high-caliber politicians, conservationists, scientists and explorers. Its core principles were identified in its Certificate of Incorporation.
"It is the mission of the Boone and Crockett Club to promote the conservation and management of wildlife, especially big game, and its habitat, to preserve and encourage hunting and to maintain the highest ethical standards of fair chase and sportsmanship in North America."
From its beginning, the club began collecting specimens of North American big game animals that were believed to be on the verge of "vanishing." It was necessary to properly catalogue the specimens and that required a systematic method for measuring heads, horns and antlers. A club member by the name of Prentiss Gray was charged with the task. He succeeded in developing a scoring methodology, which club members, conservationists and hunters adopted.
Even today, wildlife managers and trophy hunters judge the quality of a specimen or hunting unit by B&C scores. Those units, from which high-scoring animals are taken, attract a lot of hunters who will pay big money for the opportunity to hunt. Fish and game agencies, local economies and private landowners all benefit from sound management practices, which produce high-scoring specimens. It's doubtful that Prentiss Gray could have scarcely imagined the significance of his undertaking and the long-term impact it would have for generations of hunters and wildlife managers.