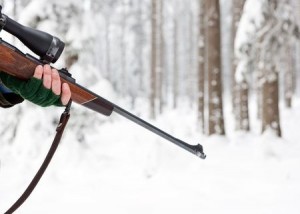 Cold-weather hunting is a wonderful thing. There's something to be said for the crispness of the air, the condensation of your breath and the quiet serenity found when you venture into areas too cold for most others to trek. It's just you, the cold and the game. Want to bag a trophy? You need to be ready to take on the weather too!
You might be one of those people who pretends the cold doesn't bother them. Chances are good though, that you realize how difficult it is to shoot when your fingers are numb. It's also horribly challenging to concentrate on anything (let alone a massive buck) when your ears are chapped and your face is burning from the accumulation of ice crystals on your flesh. Most hunters know these things happen, but cold weather can be  downright dangerous. In fact, according to veteran hunters, hypothermia should be feared by anybody who regularly braves frigid conditions.
Fortunately there are steps you can take to make sure you never get to this point.When it comes to keeping yourself warm and protected there are 5 areas to keep in mind: the head, torso, hands, legs and feet, in no particular order. Let's break it down:
Head gear: The QuietWear Ruff and Tuff Cuff Hat is comfortable and keeps you dry and warm – the four layers of wool makes sure of that. And warmth and dryness is all you really need out of a hat or cap. This one has an added bonus though: it's treated with something called Ultra Fresh™, which actually controls the scent your head sweat emits.
Torso: You're best bet is the Browning Transitions Series hunting jacket. This jacket boasts a multi-layer design but is not weighty or bulky. Also, all of the pockets are easily accessed when wearing a hunting pack, which as most of us know, is really nice.
Hands: In cold weather, Cabela's GORE-TEX® MT050® Whitetail Extreme® II Shooting Gloves are the obvious choice. They're waterproof, breathable and made from GORE-TEX, which insures your hands stay dry. They have a synthetic palm that aids with grip and sensitivity. Plus, the specialized trigger finger won't impede you when you're taking a shot.If you're a bow hunter, you might want to check out these specialized beauties.
Lower body and legs: The "Scent Lok" Camo ClimaFleece Series pant is what you want. Like the aforementioned jacket, these pants are multi-layered and make sure you stay warm and dry. They're designed to fit snugly but not too tightly, allowing ease of movement and extra heat retention. What's more, the "Scent Lok" technology controls your odor signals from reaching game.
Feet: Nothing is more important than protecting your feet. An inability to walk can put a big damper on your hunting trip, so choosing what boot to don is crucial to hunting success during the winter. Any hunter in the know chooses the Wolverine Xtreme Series Boots. The  Ridgeline Xtreme Hunting Boot won't leave you wanting. They feature Kodiak nu-buck leather with waterproof Gore-Tex linings and 1,000 grams of 3M Thinsulate Ultra insulation. They also have a great rubber out soles that give you great traction on almost any service. To top it all off, they're incredibly comfortable!
Have a blast while you're hunting this winter, just make sure you've done your homework in advance and are prepared to take on the cold!