Until his death in 1984, Elmer Keith was one of the most famous outdoor gun writers in the country. He grew up in Montana and spent the 1920s and 30s guiding, hunting and testing high-pressure, large-bore handgun cartridges. He was hired by The American Rifleman in 1924, after submitting a number of articles on guns and hand-gunning.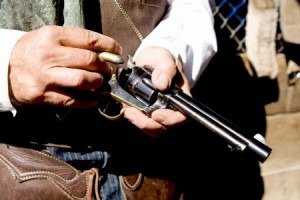 Keith soon became a sought-after gun editor and during his 30-year writing career, he served on the staff of not only the American Rifleman, but the Outdoorsman, Guns, Western Sportsman, and Guns and Ammo. Keith wrote 10 books during that time, some of which continue to be published today. His last book, 'Hell, I was there' can still be found in print.
His fame earned him the respect and friendship of Bill Ruger and the founders of Smith and Wesson. Both gun makers raced to produce heavy framed handguns that would shoot Keith's magnum cartridges. Keith was the key figure leading to the production and popularization of the .357, .41 and .44 magnum cartridges and the six shooters that launched them. These included the Ruger Blackhawk, Super Blackhawk and S&W models 19 and 29.
It was Keith who introduced the idea that magnum handgun cartridges were legitimate big-game hunting firearms. Some ridiculed his opinions until he proved their legitimacy during subsequent big-game hunts, where almost all North American big game species fell to his big-bore revolvers. Continuing into the modern day, magnum handgun cartridges are still accepted as legal and legitimate firearms for big-game hunting.