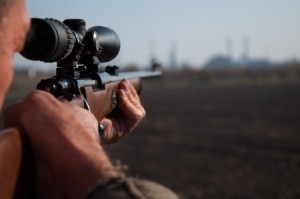 2014's hunting seasons have come to an end, but depending on which state you reside in and whether or not you're a multi-game hunter or a specialist, you probably won't have to wait too long before you're back out in the wild, stalking your next prey. In fact, turkey hunters will soon be off and running in many states (some as early as April).
Unless you're into hunting squirrel, prairie dog, coyote, wild boar or woodchuck (and if you haven't tried hunting any of these things, you really should.) there's a brief pause for the summer months and then before you know it, it's fall deer season again!
While you're patiently waiting for your next favorite season, now is the time to start thinking about what you'll be shooting when the time comes. With that in mind, you should check out this article titled "The Best New Hunting Rifles of 2015."
In it, you'll learn all you need to know about everything from Browning's AB3 Rifle and Mauser's M98 Magnum to Rock River Arms' Predator 2 and Sako's 85 Corbonlight.
All told, you're about to see 11 of best hunting rifles you've ever seen. Who knows, maybe you'll have one these bad boys slung over shoulder in time for next season.