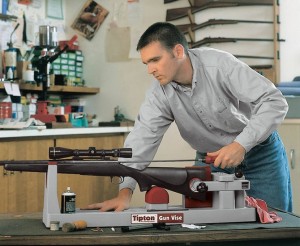 If you expect your rifle to perform well in the field, you've got to treat her right. Otherwise, you could find yourself squeezing off shots that – because of a dirty barrel or smudged scope – don't hit the mark.
You don't have to spend a ton of money to keep your rifle in pristine firing condition. In fact, we found a great tip sheet in Field & Stream for keeping your rifle ready for hard-to-hit, long-range shots for less than 60 bucks. Not bad, right?
Let me whet your appetite with two pointers from that list. After that, I'll send you to the article, authored by firearm guru David Petzal.
SCRUB THE BARREL: No, don't shove an oily patch through the bore. Clean it so there's nothing but bright steel inside. How? Scrub away with powder solvent, patches, and a phosphor-bronze brush, and then polish all the little grooves and lands with J-B Non-Embedding Bore Compound. When you can no longer see copper streaks from the muzzle end, you're done. COST: $4
REMOVE RUST: Light rust can be removed by scrubbing with 0000 steel wool and a little oil. (A rusted trigger is more serious; a gunsmith will have to take it apart and clean it or replace it.) A package of 0000 steel wool, which you can get at a hardware store, lasts for years. My own dates back to the Truman administration. COST: $8
So you're up to $12 – not quite the cost of a dine-in steak. Want to spend a little more? Here's a link to Field & Stream's complete story. Enjoy!