A neighbor recently leaned across my fence. Speaking as a wildlife photographer, he said he enjoys his pastime year-round, while hunters, like myself, have only a few weeks a year to pursue their passion of hunting game. Too bad he hadn't done his homework, because ample opportunities for year-round hunting abound. Let's take a look.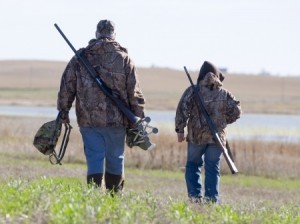 First, there's big-game archery hunting, which begins in early fall, and in some states, continues into winter. Muzzleloader and rifle hunts often follow big-game hunts. These hunters often target a wide variety of species, using an assortment of weaponry.  In areas where population control is the primary objective, the hunting season for bucks, bulls and rams is often followed by antler-less hunts.
Concurrent with many big game hunts are abundant opportunities for hunting small game, including many varieties of birds. Across the 50 states, a huge diversity of hunting opportunities abound, including bobwhites, squirrels, rabbits, game birds, grouse, partridge, pheasants and quail. For the avid hunter, there's no shortage in small-game hunting opportunities.
As autumn gives way to winter, migratory waterfowl fly south. Geese and ducks offer wing shooters several months of hunting challenges, involving a variety of species. Hunters will find liberal bag limits and plenty of places to go, during this season. Enjoy duck hunting. Hunters employ a variety of methods, including dogs, decoys, and blinds. Predator hunting — a popular pastime, which reaches its peak in winter — actually continues year-round, as nuisance and predatory animals may be hunted without a license, bag limit, or season in many places.
As winter winds down, a growing number of hunters switch from guns to optics in the search for antler sheds. Collecting shed antlers has become a popular and profitable pastime, which also offers a cure for seasonally induced cabin fever. Other game enthusiasts go on the hunt for rabbits, or upland game birds.
Following quickly on the heels of winter, come opportunities for spring mountain lion and bear hunts. These are offered in almost every state where these animals are naturally found. Come spring, hunters may then add turkey hunts to the mix. Wild turkey hunting seasons exists in many states.
When the warm days of summer arrive, many hunters exchange a gun for a fishhook, and enjoy sports fishing. Killing two birds with one stone, hunters may also do some pre-season scouting for game, so they're one step ahead in the competition for garnering that trophy kill. Hunters who understand the value of finding and patterning trophy animals will be well prepared, when the fall hunting season opens.
Some hunters prefer to capture video footage of wildlife, sharing their passion for the awesome beauty of these creatures all year long. Many sportsmen love their quarry, and are passionate about the wildlife they hunt, regardless of whether they use rifles or cameras.