Spring is the time for renewal, as the sap begins to rise from the roots. It's also the season when males of many species strut as they sport displays intended to impress the females. For those wild turkeys (and maybe us, too) love is often their downfall. When they focus on sex, they (and we) get a little stupid. When a gobbler gets stupid, he just bought the farm.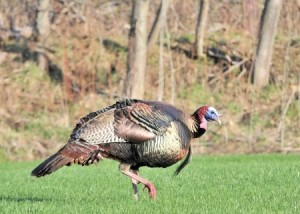 The opportunity to hunt wild turkeys spans 49 states. Even Hawaii has a turkey-hunting season! The only state without an acknowledged wild turkey population is Alaska and even that's a subject of continuing debate. Sightings of turkeys in the Land of the Midnight Sun have been reported. Whether these birds escaped from captivity or came to the state by some other means is not known. Here are some expert tips for hunting wild turkeys.
Five subspecies are spread across this great nation. They include the Eastern, Florida or Osceola, Gould's, Merriam's and Rio Grande. The Eastern subspecies has the widest distribution, covering most of the Midwest and eastern U.S. The Gould's turkey, while common in Mexico, is found only in Arizona and New Mexico. The Rio Grande flourishes in Texas, Oklahoma and Kansas. The distribution of the Merriam's is confined to western states with populations inhabiting the forests of the Rockies.
Although wild turkeys are native to North America, their numbers declined during westward expansion and settlement. This decline occurred with such rapidity that by the  early 1900s conservationists were concerned about possible extinction of the species.  Thanks to hunters and conservation organizations, such as the National Wild Turkey Federation, the species today thrives through much of its range with a North American population estimated at more than seven million birds.
It's ironic that the same people who hunt the birds are also the same ones who brought the wild turkey back from the brink of extinction. Anti-hunters may give lip service to wildlife, but it's been the hunting community that has lobbied for excise taxes on hunting, fishing and outdoor equipment to fund conservation throughout the 50 states. It's been hunters who supported research and management through opening their wallets to buy hunting licenses. Hunters have been the ones to donate time and money for habitat improvement and range expansion.
The advent of spring is the time of year when we reap the rewards of our labors. Arise from your recliner, practice the box (slate or diaphragm) turkey call and put your camouflage clothing through a wash cycle. Pattern the shotgun and then head to nearby woods. Whether you stalk them, call them or a little of both, there's nothing like the adrenaline you feel when a longbeard lets loose with a gobble that gives you the shakes.